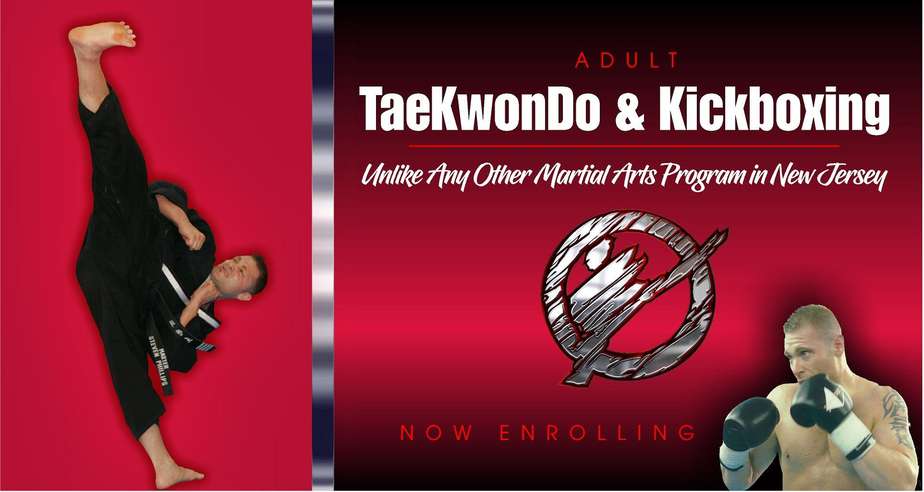 NJ ADULT TAEKWONDO AND KICKBOXING CLASSES
Action Packed 800 Calorie Kickboxing Workout! Get Fit & Look Great!!
Do you want a workout that does it all? Whether you're looking to build head-turning muscle tone, increase strength, lose weight or learn ever-important self-defense skills, you don't need to look any further than the Adult TaeKwonDo and Kickboxing classes at West Windsor.
Master Steven brings over 30 years of Martial Arts knowledge and experience to the way he teaches. His version of TaeKwonDo emphasizes development of a strong body and a focused mind. All of the classes are involved in some sort of speed and agility training – with older and more experienced students training at a more advanced level.
ENJOY ENDLESS BENEFITS AT NJ TAEKWONDO
In our hybrid TaeKwonDo & Kickboxing classes we emphasize balance between body, mind and spirit while teaching the skills and techniques of self-defense, physical fitness and peace of mind, as students strive to develop their personal skills in order to grow in a well-rounded fashion and enhance their ability to cope with life's challenges. With training, students benefit both physically (increased strength, coordination & flexibility, and improved cardiovascular conditioning), as well as mentally (gaining increased self-confidence, concentration, patience, self-control and a positive attitude).
When you enroll in Adult TaeKwonDo and Kickboxing classes at NJ Taekwondo & Kickboxing Academy, we guarantee you'll be thrilled with your decision. That's because you'll enjoy a long list of benefits that you just can't get from your average gym workout. Just take a look:
You'll master critical self-defense skills that could save your life
We'll whip you into peak physical condition in no time at all
You'll easily achieve a rock-solid core with toned abs
You'll get perfectly sculpted arms and legs
Your self-confidence will skyrocket with each new class you take
The 60-minute workout consists of easy-to-learn moves and provides fast results in terms of improved balance, coordination and an increase in energy. Every lesson will be a mixture of kickboxing, circuit training, calisthenics and stretching. Kickboxing is a great way to get a total body workout while learning simple self-defense moves.
As a professional kickboxer himself, Master Steven is always training – he brings his 30 years of martial arts experience as well as tips and routines that he learns from his trainers, to the classes, keeping the workouts varied and interesting.
NOW IS THE TIME! JOIN TODAY!
Request all the information you need to get started in NJ TaeKwonDo and Kickboxing classes today!